Location
PARADOR CONDE DE GONDOMAR (Google Maps)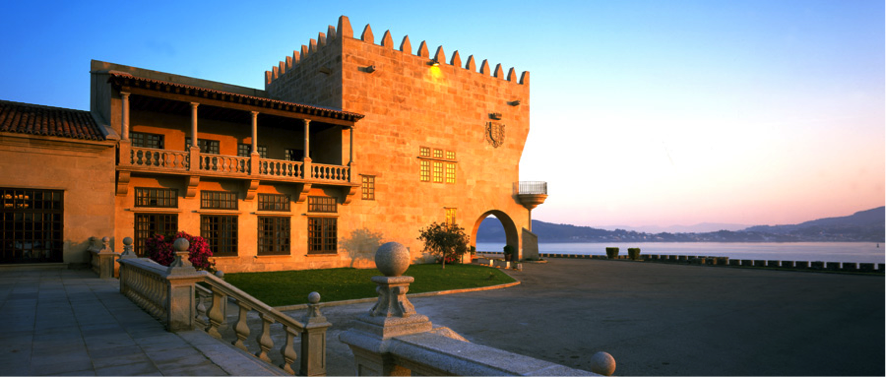 The Parador Conde de Gondomar is a medieval fortress with influences from Galician stately architecture. Located in the Centre of the city, is one of the most unique hotels that offers truly impressive views over the estuary and is surrounded by the walls, by the sea and by a beautiful forest of pine.
The hotel has magnificent, stylish rooms full of decorative features from different eras. Manorial rooms and spacious bedrooms, many boasting spectacular sea views, make up a grandiose interior along with its outstanding stone staircase in the entrance hall.
The Parador offers a wide range of dishes including, sea bass with razor clams in rapini sauce, shell fish dishes, tarta de Santiago (Galician almond tart), and filloas (Galician pancakes).
How to get there: 29 Km of distance they are from the Peinador Airport (Vigo) to the Parador de Baiona.
TAXI (daytime rate 35€ approximately; nocturnal 40€ approximately)
BAIONA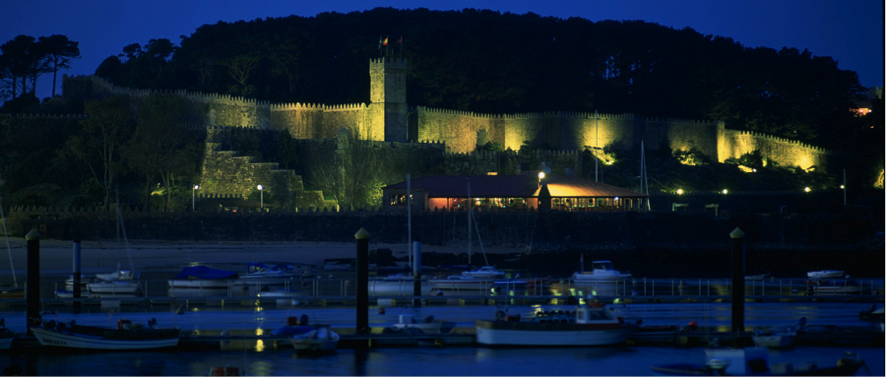 Baiona, lies in a small Bay of the ría de Vigo. Its port was one of the most important of Galicia in medieval times. Today Baiona is one of the historic towns in Pontevedra, which is one of the four provinces forming the Autonomous Region of Galicia, in the North West of Spain.
Town of narrow streets, with emblazoned houses, arcades of stone and beautiful places typical sailors.
Baiona has always care for its sea environment. Everywhere the sea kisses the shore in Baiona there is a place to relax, a place where human beings meet their origin. All those places facing the sea will be linked in a near future, when the 6-km-long promenade is finished.
On the way out from Baiona to Oia you can see Pinzón promenade, formerly known as the Breakwater. Next you find the Monte Boi promenade surrounding the Monterreal Fortress with a splendid view over horizon line of the ria. At the end there is A Ribeira promenade, which lies beside A Ribeira beach. It next joins with the Seafront, which links Elduayen and Alférez Barreiro Av. In the future the promenade will get to A Ramallosa; works have already began.
Baiona has a Marina to the foot of the Castle where many boats arrive. It comprises the fish market and a long pier. Fishing boats are moored at both sides; there is also a floating dock where the Caravel Pinta Museum is waiting for your visit.
Baiona is very visited by its white sandy beaches, it is a lively city with many bars and restaurants where to taste the delicious seafood of the estuaries, lobsters, crabs, oysters, crabs, shrimp and clams, are consumed fresh and in abundance, also their fish like turbot, sole, hake, sardine and rich Octopus "a feira".
All accompanied with white wine of the land, Ribeiro, Albariño, County and Rosal, generously served in cups of white earthenware.
Distances to the main cities:
Vigo (Spain): 20 Kms
Tui (Spain): 25 Kms
Porriño (Spain): 26 Kms
Valença do Minho (Portugal): 26 Kms
A Guarda (Spain): 30 Kms
Pontevedra (Spain): 53 Kms
Santiago de Compostela (Spain): 101 Kms
A Coruña (Spain): 182 Kms
Longitude: 5º 70' 0'' and 5º 12' 3'' W from Greenwich meridian.
Latitude: 42º 2' 40'' and 42º 7' 40'' N.
Minimum elevation: 0 m sea level).
Maximum elevation: 632 m (Alto de A Groba).
Area: 34,7 km2.